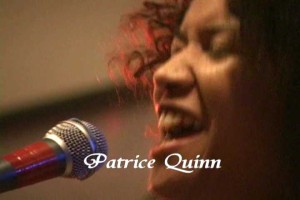 Since joining the LA jazz scene a couple years ago, singer Patrice Quinn has rapidly garnered the respect of many of Los Angeles top musicians, as well as a growing number of fans. All agree they are watching the emergence of an important new jazz artist.
Born and raised in NYC, the daughter of civil rights activists, Patrice cites Nina Simone as her earliest influence. Later, she heard Billie Holiday, then John Coltrane, and more recently Betty Carter and fellow actress turned singer, Abby Lincoln. She began acting professionally at age 15, appearing on Broadway, and at some of the country's most respected theatres, as well as in many television and film productions.
Patrice continues to act and teaches acting at Los Angeles High School for the Performing Arts all the while cultivating her career in music. She recorded a sweet and swinging version of "Pure Imagination" (from Willie Wonka) on "Cross Hart Jazz Experience" compact disc which is currently receiving radio airplay on jazz stations across the country. Patrice is working on her new live album recording at The Lighthouse, a famous west coast jazz spot.