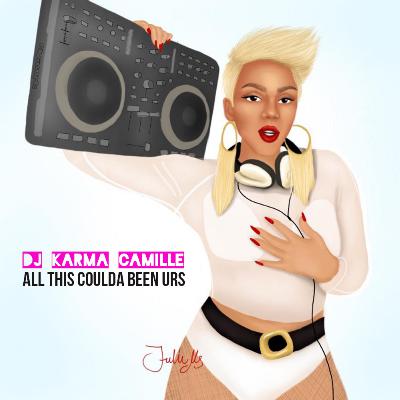 Karma Camille aka Myra Washington (the singing DJ) is the package that is very hard to come by. The passion she has for music cannot be described by just one single word. Although she has many musical influences including Mary J Blige, Toni Braxton, Tina Turner, Luther Vandross and Pink, its only obvious that her sound as a vocalist is truly unique and her skills as a DJ is the icing on the cake.
The talented singer, songwriter, actress, DJ born in Port Arthur, TX home of Janis Joplin and rappers UGK, the eldest of 3 kids that all have a had musical success includes baby brother "Wash " with hit single "Can't Trust Thots" and middle sister Brittani Washington (keyboardist) that toured for 7 years with Beyonce's all girl band. Dj Karma Camille comes from a very musically inclined family. A child of two parents that are Pastors of a holiness church, DJ Karma Camille grew up in the church singing, directing the choir, and playing the drums and she credits that church for sultry voice. Although a graduate of Prairie View A&M University with a BA in RATV Communications and a minor in dance, she crafted her skill and made music her first love.
As a DJ some celebrity clients include DL Hughley, Kevin Hart, Torri Hart, Fantasia, Shanice Wilson, Flex Alexander, Esau Mcgraw and others to name a few
As a singer she has performed as a featured background vocalist on Simon Cowell's X Factor USA working closely w Simon, Khloe Kardashian, Britney Spears, LA Reid, Nicole Scherzinger, and Paula Abdul.
DJ Karma Camille and tour with Klymaxx feat Bernadette Cooper "Diva and a Turntable" She performed on countless stages including, Essence Music Fest opening for acts such as Ron Isley, Shanice, Montel Jordan, Angie Stone, Ray J, Kindred and the Family Soul, Brian Mcknight, The Ojays, Latoya Luckett, Eric Benet and Chris Brown,, DJ Karma Camille has appeared in numerous commercials and television appearances, which has sparked national attention.
In Feb 2015 she released her single "All This Coulda Been Urs" to all digital platforms.
Recently relocated to Los Angeles in pursuit of her dream you catch Myra performing her DJ/Singer act throughout the city of Los Angeles